In The Australian, Tuesday July 10, 2012:
School of thought on tackling bad behaviour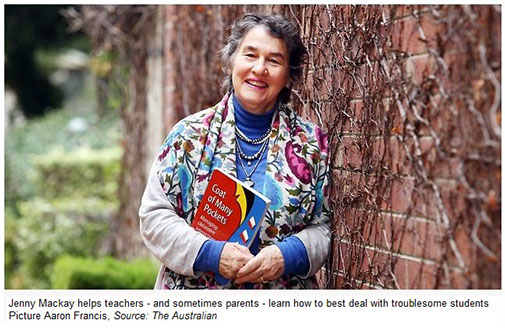 TEACHERS fresh out of university are struggling to cope with disruptive behaviour because of a lack of practical training, according to a former educator who has built a new career from helping schools with behaviour issues.
Dozens of schools in Victoria have hired Jenny Mackay to give them strategies to deal with bad behaviour, with younger teachers in particular lacking the skills to manage troublesome students.
"There isn't enough practical training in university, by any means," Mrs Mackay said. "They are having difficulties managing disruptive and challenging students because they just don't have the strategies to cope. They don't get the practical skills for when a child says, 'I'm not doing this' or 'I don't feel like doing that'."
Mrs Mackay's experience backs research showing four-year education degrees sometimes offer as little as a few hours on behaviour management issues, despite more challenging classroom behaviour increasing pressure on teachers.
The Victorian government has announced it will fund a group of public school teachers in a one-year course focusing on difficult behaviour and strategies to deal with it.
Mrs Mackay's book on successful interaction with students has been described as a survival guide, and one of the things she stresses is knowing how to respond to a student who is acting out in class and when a firm hand is warranted.
"If they step outside the boundary for acceptable behaviour because they can't cope or they're not feeling OK then I respond emphatically," she said. "But if they step outside the boundary and cause the rest of us problems, then I step in assertively."
Mrs Mackay said punishment was not the answer as it could often lead to an unconscious goal of revenge. "We're educators, not policemen, so we need to teach children about behaviour and how to behave within the social context of the classroom," she said.
"It's very much enabling the child to learn from what they've done wrong and put it right, not punishing them."
Her interaction with a school can vary from a half-day session to a relationship lasting several years, in which she sits in teachers' classrooms and observes before offering suggestions.
Mrs Mackay backed remarks from school principals that parents often influenced children's behaviour by failing to impart a respect for education.
She also runs parent workshops. "Some parents are incredibly demanding without thinking about the situation (of their child's teacher)," she said. "They are centered on their child. Parents have to keep a balance."